Help!
– To Be able to play the games you'll need the latest java in your computer. To download java you can click  Here!
– Full screen mode will run only with the games that have the "Full screen instruction note" in the bottom of the game
box, please check the figure below.
– If you are having trouble running a game like it stick on the screen or giving you error, etc.. you have to close the
game page for two minutes and try again to give the Java Virtual Machine the Opportunity to shut down.
– If you have any question you can email us by going to our contact us page or by  sending a PM on our Facebook page.
– Saving Feature works only with games that have the "Full Screen Note", please check the figure below.
– Getting this Error "Your security settings have blocked an application from running with an etc.." ?
To solve the problem you need to update your java to the latest version and the problem will solve automatically.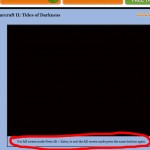 – If you are having problem running the emulator because java blocking the applet, you can do the following
to solve the problem.
In ms-windows go to your control panel -> Java -> Security -> Lower Security Level to Medium -> Press ok ->
Restart WebBrowser -> Play.